Fat Transfer in Pakistan, Karachi
Fat transfer in Pakistan, Karachi is one of the newest and prevailing methods of plastic surgery that is used at Aesthetic Shapes Karachi, Pakistan, to attain fat from one body part to be transferred in other parts. Having broad application in the new age treatment processes of plastic surgery, fat grafting is also known as fat injection which makes for a safe and long lasting solution. If you have any body part that lacks proper volume of fat such as in cheeks, face, breast, buttock, hand, feet, acne scars and more, through this  procedure Dr. Syed Arif Hussain can help you in adding balance and augmentation in the right proportion. Depending on the treatment process and health of the patient, fat grafting may need to be done several times in order to get the desired result.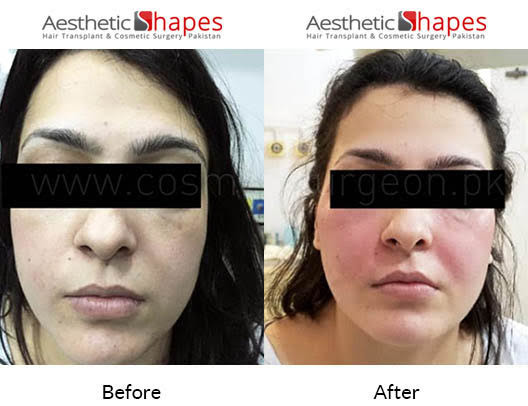 How Does Fat Transfer/Grafting Work?
In this method, the surgeon removes the excess fat from different parts of the body such as thigh, abdomen and other areas
This fat is then processed and then injected to expand/increase volume in desired areas
Good thing about fat transfer technique is that it doesn't only restore the volume of skin but it also enhances the glow and beauty of the skin
It is an effective technique used to mold new contours, such as abs, biceps, chest, chest, buttocks, hips etc.
Fat transfer is also the best alternative to the dermal fillers and implants for chin augmentation
What Areas Can Be Treated For Fat Transfer/Grafting?
The most common areas for treatment are:
Frown lines
Breast Augmentation
Buttock Augmentation
Hip Enlargement
Skin depressions
lips to give a fuller and more sensuous
Hand rejuvenation
Body Contouring and Shaping
Face Rejuvenation
Crow's feet
Facial wrinkles
Creases and furrows
Sunken cheeks
Some types of scars
How Is The Fat Transfer Treatment Performed?
A fat-injection procedure is a two-step process
First the donor site is cleansed and then anesthetized
Then fat is harvested through a liposuction cannula (tube) from the abdomen or hips and once extracted is aspirated and washed in saline to remove damaged fat cells prior to injection
Once treated the fat cells are then injected with a small syringe (after the area has been numbed) into the desired locations.
Are There Any Side Effects?
As with any medical procedure, there can be side effects. Most people experience some swelling and redness for the first 24-48 hours.
Itching and mild discomfort is not uncommon
There is no risk from allergic reaction because the fat is harvested from your own body
Infection is extremely rare and if needed antibiotics will be given for five days
Benefits Of Fat Transfer/Grafting Treatment
Here are some benefits that you can grab from fat transfer treatment at Aesthetic Shapes, Karachi, Pakistan
Less Invasive treatment
No need to stay in hospital  because it is a walk-in walk-out kind of procedure
No pain due to use of local anesthesia
It enlarges the area uniformly and naturally
The look and feel both are natural
There are no implants used
It's a minimally invasive procedure, so no scars
What About Result Of Fat Transfer Treatment?
Good thing about this procedure is that you can see the results immediately. You can have fresher, healthier, and younger-looking skin just after the treatment.
Downtime
It is not a surgery, so you can get back to your normal activities very next day of treatment. Sometimes you notice bruising that settles within some days. Your surgeon will advise you to apply camouflage cream for recovering fast. As far as donor sites are concerned, their recovery will need some time usually one or two week.
Is Fat Transfer A Safe Procedure?
Absolutely yes, because it is your own fat being transferred from one place to another. Since no foreign material is used, no reactions are seen.
How Long Does The Result Of Fat Grafting Last?
Different procedures react differently to the fat transfer treatment. Once transferred about 50-70% of the fat is absorbed by the body and 30-50% will stay for a long time and maybe for life. It means that additional procedure may keep on adding volume to the pre-existing fat. It is good to get answer to this question during consultation session with an expert cosmetic surgeon.
Risks And Complications Of Fat Transfer Treatment
The risks and complications of fat grafting treatment are uncommon and rare
The possible complications or side effects are soreness and bruising
Another rare risk associated with this procedure is dissatisfaction of the patient
Sometimes, patient doesn't feel happy from the results of procedure but it happens when he/she chooses incompetent surgeon for this treatment
It is good to find the best cosmetic clinic for this purpose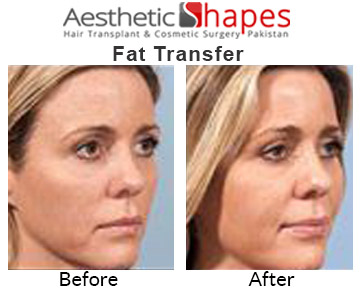 Disclaimer: Individual results may vary