Difference Between A Normal Face lift And A Mini Face lift
Aging is inevitable. In the past, one could say that there is nothing you can do to stop aging, but that is not the case today. While some people are the flag bearers of embracing the process gracefully, there are some people who like to believe in the change. We are one of those who love to do the impossible for our clients.
What Actually Is A Facelift?
A facelift is a gift of cosmetic surgery to mankind. According to a definition, the facelift is defined as:
"It is a facial surgical process which involves lifting, repositioning or removing of loose or sagging facial tissue that helps to restore a natural and youthful appearance."
You may have heard the term "going under the knife." It is like a new normal these days and another term for surgical procedures like a facelift. The modus operandi of a facelift is somehow like; a surgeon does small incisions near the hairline, literally lifts the skin, and repositions the facial tissues back to their young age positions.
The results of a facelift are great, long-lasting, and very promising. It literally reverses the aging signs to many years back and gives a youthful look to the face.
Why Do You Need A Facelift?
As you age, the body's skin, especially the face, starts to lose its elasticity and tightness, giving a hanging and saggy appearance, especially around the eyes and mouth. Aging also brings jowls at the bottom of the face, wrinkles, and deep lines with it.
Many people don't feel very good about these, and the aging signs are the reasons for low self-esteem, low confidence, and depression among them, especially women.
A healthy diet and good skincare regime help slow down aging, but they cannot stop it altogether. With a facelift, you can cut down as much as ten years of your age with a simple procedure and regain that confidence again.
Types Of Facelifts:
Before you hurry up and hop on the bandwagon, you need to dig into the types of facelifts that there are. So, you can decide what works best for you. This way, you will get maximum results that will be best suited to your needs.
We have done the work for you. Have a look at these types of facelift procedures in Pakistan:
• Full Facelift: Also known as a traditional facelift, it is a complete surgical procedure that involves the full face along with brows and neck. This procedure transforms the entire look of the face.
This type of facelift is for reversing advanced signs of aging that are not otherwise possible to eliminate via less intense counterparts.
With a traditional facelift, you can get rid of very deep eye wrinkles, fat deposits under the chin, bands on the neck, and jowls. The recovery will take up to four weeks, but the results are worth it.
• Mini Facelift: A less involved and intense as compared to the full facelift designed to relieve some advanced signs of aging like year old fat deposits, larger jowls, and deep wrinkles near the eyes.
The mini facelift procedure resembles a lot with an abbreviated facelift procedure involving the same techniques and even incisions.
But as compared to abbreviated facelift, more skin is lifted and tightened as the advanced aging signs are involved here. The recovery time is very short, and the results are long-lasting.
• Abbreviated Facelift: Out of all the types, this is the least involved and least invasive type of facelift. This procedure is ideal for the younger adults who want to get rid of the earliest signs of aging the moment they appear on their face, neck, and cheeks.
The surgery targets signs of aging like shallow wrinkles, fine lines, and small-sized jowls below the mouth. This facelift procedure involves very small incisions, and the skin is lifted and tightened.
The procedure is extremely beneficial for the earliest signs of aging. A minimally invasive procedure that offers very less scaring. Both the procedure, as well as the recovery period, is very short-termed.
Difference Between Mini Facelift And Normal Facelift:
After diving into the important details of the procedure, it is now time to pinpoint some differences between a mini facelift as well as a normal facelift. Let's find out: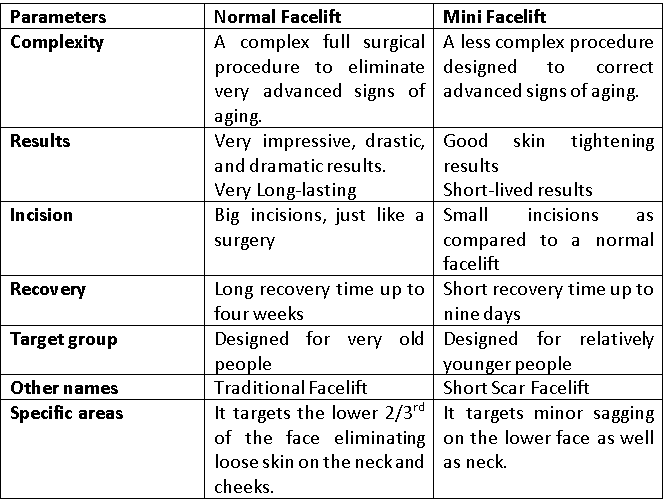 Time To Get In Touch With An Expert:
Now that you have in-depth knowledge of the types of facelift options, it is now time to choose an expert cosmetic surgeon with a well-known reputation for facelift surgery in Pakistan.
You can discuss further details with your surgeon and get an expert opinion on what's best for you. Your face is something you cannot take a risk with. One wrong decision can lead to an irreversible disaster. So, do your research well!
About Us:
Are you looking to get your facelift done correctly? Let Dr. Arif Hussain do this who goes the extra mile to satisfy every single patient of him fully. He will not disappoint you after having years of experience in cosmetic surgery and performing hundreds of successful facelift procedures.
He makes use of cutting-edge technology as well as up-to-the-minute surgery tools, in particular, the power X machine. This is how he gets in the bag maximum client satisfaction.
Get to know about our client's feedback for a better idea.