BBL – The New 2-In-1 Procedure (By: Dr. Arif Hussain)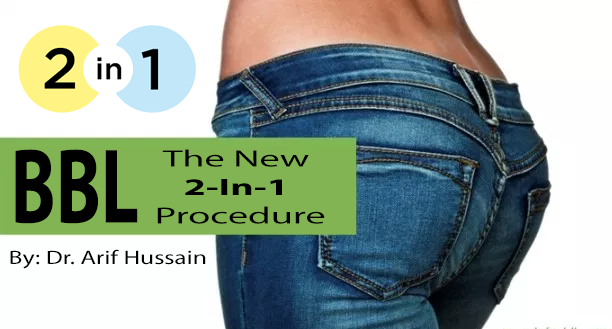 Although traditional butt lift and augmentation are successful in enhancing the appearance of the buttocks, they offer very little, if any, benefits to other body areas. Brazilian butt lift is considered by many to be a two-in-one procedure because it simultaneously treats the buttocks and another body area. For instance, you can slim down the thighs or tone your abdomen while enhancing your derriere. Brazilian butt lift helps you sculpt your body's curves and create a more balanced and attractive figure. In addition, undergoing Brazilian butt lift helps you achieve your desired body figure faster than undergoing separate procedures. If you choose to undergo butt augmentation and another body contouring procedure like tummy tuck separately, you will have to wait several months for your body to heal before undergoing the second procedure.
Safe & Natural-Looking Results
BBL is completely hypoallergenic, as it only uses the patient's own fat to enhance the buttocks. The procedure eliminates the risk of an allergic reaction, which is a risk that comes with buttocks implants. Brazilian butt lift is less invasive than other body contouring procedures because it only uses injection points on the buttocks and small incisions on the body area that will be liposuctioned. This minimizes the risk of infection and other complications associated with more invasive procedures.
Modern butt implants are designed to feel as natural-looking as possible but they cannot fully replace the look and feel of natural fat and tissue. Brazilian butt lift is appealing to many patients because the procedure only uses their own natural body tissue and fat so they do not have to worry about their results looking fake or unnatural.
Here you can discusses with Dr. Arif Hussain at www.cosmeticsurgeon.com.pk some of the benefits you can expect with Brazilian butt lift.