Who Needs A Facial Fat Transfer?
Facial fat transfer is gaining popularity with every passing day since the face is the center of a person's beauty. Whenever you see a person, the first thing you notice is his/her facial features. If you are a man or woman who wishes to enhance his/her facial features, advancement in cosmetic surgery has a lot to offer you
In fact, face surgeries are always an option to regain your youthful face. But if you are not willing to go under the knife, face fat transfer is an option for you.  The procedure is rather simple, which involves extracting fat from other areas of the body and transferring it where it is needed.
Wondering if you can go and get facial fat transfer or not? Well, before you jump to any conclusions, you need to know more about the procedure first.
What Is A Facial Fat Transfer?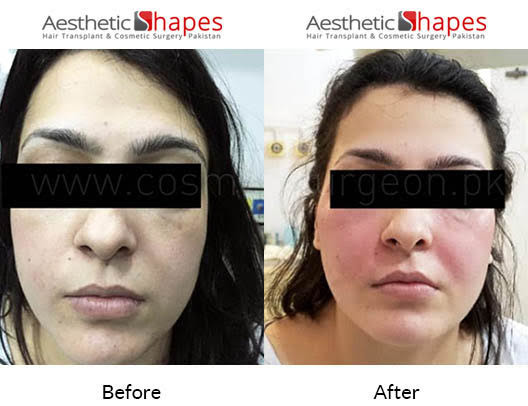 Fat transfer or fat grafting has become a favorite procedure these days as it is a procedure for which patients ask more and more. This is because it offers two benefits at one time. First, the excess fat is removed from your body through liposuction. Second, this fat is then filtered and purified to inject at areas it is needed.
With age, a person might lose the chubbiness from cheeks, chin, and under the eyes. To gain back that youthful look, many people prefer transferring fat from other parts of the body such as, thighs, abdomen, or arms to those areas. In this way, you can give those areas the desired volume.
How Is It Done?
Similar to fat grafting of any other part for face fat transfer, general anesthesia is given.
Next, your surgeon makes incisions in the part where you carry some excess fat and want it removed. Subsequently, the fat is removed using liposuction technique. Small tubes are inserted, and fat is emulsified with a liquid. That fat is then sucked out through a tiny cannula in syringes.
Moving ahead, this fat is filtered and purified to make it suitable for injection.
Incisions are made in the face where the fat is to be inserted. As your body tends to reabsorb the fat injected, some overfilling is done beforehand.
The procedure is conducted with great care under local anesthesia. Doctor Arif Hussain performs it very professionally.
You'll have a downtime of four to six weeks to recover fully. However, you'll see some amazing results as the swelling goes away.
To your delight, this technique has the least complications and more long-lasting results than any other technique. It is far safer than implants and fillers. So, what are you waiting for? If you are witnessing signs of aging or want to enhance your youth and beauty, hurry up and get this simple procedure done. Wait, this will give you the appearance of your dreams, but are you a suitable candidate?
Let's find out what can this procedure help you with, and what makes you a suitable candidate for facial fat transfer?
Suitable Candidates For Facial Fat Transfer:
If you think you are a suitable candidate for a facial fat transfer, you need to meet the following criteria:
Good Health And Foremost Requirement Would Be Good Health:
Patient should be in good health or otherwise inform the surgeon of any chronic diseases so he might advise accordingly.
 No History Of Heavy Bleeding:
An incident of heavy bleeding should also be reported
Avoid Smoking And Alcohol:
One should not be a smoker or consume alcohol as it affects the quality of results.
Sufficient Fat Stores:
One should have enough good quality fat to be transferred.
Open To Other Options:
Every person has different body types. So, if the doctor suggests using an alternate procedure than fat transfer, one should remain open for other options.
Realistic Goals for the Surgery:
To this, you should have a realistic goal to opt for this surgery. You must very well know which problem you want to address and what are your desired outcomes. Some of the problems for which you can opt for facial fat transfer are:
Wrinkles And Fine Lines:
Fat transfer reduces wrinkles, creases, and frown lines. It also helps with wrinkles and lines running down the sides of chin and mouth.
Furrows:
Smoothest out the grooves between the brows. Moreover, it reduces the appearance of wrinkles within the forehead.
Sunken Areas:
The fat transfer gives volume to cheeks and under eyes.
Acne Scars:
Any facial scarring or acne scars can be concealed by using this procedure.
Thin Lips:
Who Would not want some plump in the lips? It is the safest option to go for.
Uneven Facial Contour:
It can create a balance if facial proportion by correcting nose and jawline contour with fat transfer.
So now that you can assess if this is the correct procedure for you and you are a suitable candidate, it is very important that you chose the best doctor.
Choosing The Best Facial Fat Transfer Surgeon:
Because of its popularity, many doctors have jumped into the bandwagon of facial fat transfer. You need a doctor with sufficient training, experience, and expertise.
Notably, a good doctor will always prepare the patient for some reabsorption of fat. Moreover, he must not overcorrect. His goal should be to give not only beautiful but also long-lasting results.
While you decide to look for an expert, do view the before and after procedures. Also, remember to ask how many and what kind of procedures he has carried out.
Are you looking to get your facial fat transfer done correctly? Want to have a youthful-looking face with minimum risks? Let Dr. ArifHussain do this who goes the extra mile to satisfy every single patient of him entirely.
With having years of experience in cosmetic surgery and after performing hundreds of successful facial fat transfer, he will not disappoint you.
To your delight, he makes use of cutting-edge technology as well as up-to-the-minute surgery tools, in particular, the power X machine. This is how he gets in the bag maximum client satisfaction.
You can have Free Online Consultation with Dr Arif Hussain by filling up the form below: